the small yet very powerful
liberty cap
:) :) :)
picked from my horses field in october 09.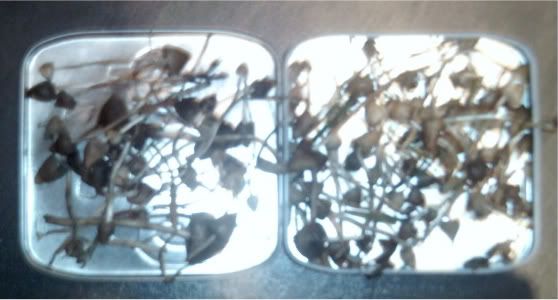 nothing that i have experienced beats the trip one can get from natures own fungus. i find the experiences very shamanic and would only injest mushies when im out among nature. TV makes me very edgy when im on a high from these beauties. so, i make sure that im camping, miles from anywhere, with a fire and good company :)
note, the distinct "nipple" on the top of the cap. this distinguises it from other small poisonous mushrooms that grow in the same conditions. the caps can range from white to dark brown depending on age.
The stem is long and thin and when picked can be quite wavey at the bottom. also when drying the stem can often go blue at the bottom.
can be picked from sept-early nov depending on weather conditions. they are usually found on hilly grass lands that have been kept short by grazing animals such as sheep. best to find after rain, on a sunny ish day. :)