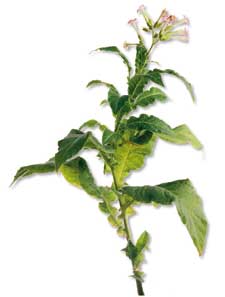 G'day
, here are some thoughts about tobacco based on my experiences and some articles and books that I have read. Why are people in power so keen to deter people from growing and using certain herbs? Do they know something about them that they do not wish the rest of the population to know? Are they attempting to mislead and frighten people away from natural, organic substances that benefit and help people mentally, physically and spiritually?
Tobacco is an herb. Natural, organic tobacco plants that haven't been selectively bred by large commercial corporations who also use artificial fertilisers, pesticides and herbicides, produce leaves that are beneficial for humans.
North American Indians use tobacco, along with other herbs such as sage and sweet grass, to enhance the awareness of their connection to the cosmos.
http://www.geocities.com/redroadcollect ... bacco.html
In south America the Ashaninka of the Amazon communicate with the spirit of the tobacco plant who then shows them where a person's illness is so the shaman or healer can then remove it. The Ashaninka word for shaman or healer is Sheripiari which translates as "one who uses tobacco".
Nicotine contained in tobacco accelerates the function of DNA. For that reason Ayahuasqueros refer to tobacco as "something delightful for the spirits".

Equally, the DNA contained in the rest of living beings is emitted by them as photons. In that way, and recognizing the identical side of DNA in all living beings, these can communicate, becoming receptors and emitters at the same time.

It is convenient to establish the main differences between the shamanic use of tobacco and the consumption of industrial cigarettes. In principle, the botanical variety used in the Amazon contains up to eighteen times more nicotine than Virginia type plants used in cigarettes. Amazonic tobacco is grown without chemical fertilizers or pesticides and it does not contain any of the ingredients added to cigarettes such as aluminium oxide, potassium nitrate, ammonium phosphates, polyvinyl acetate and hundreds of others that make up about ten percent of their fundamental matter. During combustion, a cigarette liberates about four thousand substances, mostly toxic. Among them, some are even radioactive, making cigarettes the main source of radiation in the daily life of the average smoker. Smoking one or two packs a day, we absorb radioactivity, according to some calculations, equivalent to two hundred and fifty lung radiographs per year. Cigarette smoke is directly involved in more than twenty-five serious illnesses, seventeen of them some form of cancer. On the contrary, in the Amazon tobacco is considered a remedy. Among the Ashaninkas, the word for healer or shaman is Sheripiari, literally "one that uses tobacco". The oldest Ashaninka men are Sheripiari. They all enjoy very good health and maintain great physical shape.

From "The Cosmic serpent" by Jeremy Narby

http://www.enjoyperu.com/peru_travel_to ... tters.htmlhttp://www.enjoyperu.com/peru_travel_to ... rpent.html
All over the, world Indigenous cultures, which live with the natural world rather than exploit and destroy it, smoke tobacco. This is because they understand it's beneficial effects and consume it (it may be smoked, eaten, or used to produce a liquid which may be drunk) with an understanding based in gratitude. Western cultures turned this notion upside down, bred out a lot of the herbs psychoactive benefits and turned it into a taxable habit controlled by multi-national corporations.
One or two plants will supply an individual for a year, for psychoactive herbal tobacco is not at all the sort of over processed, dosage-controlled, perfumed and chemicalised vegetable material which is stuffed in little paper tubes and called cigarettes, to be consumed twenty, forty, sixty or more a day. A couple of hits of herbal tobacco, a couple of times a day, gives more true tobacco satisfaction and more true tobacco effect, than can ever be obtained from the little wands of commerce.

From the book 'The Cultivators handbook of Marijuana' by Bill Drake, chapter 8 p.174 titled 'Cultivation of Psychoactive Tobacco'

http://books.google.com.au/books?id=zjK ... #PPA174,M1
There are over
100 species of tobacco
(p.186) but Nicotiana tabacum, the species used in western cigarettes known as Virginian tobacco, has been selectively bred to eliminate it's psychoactive properties so that it's beneficial stimulating effects on a person's DNA are reduced.
If the best way to hide an idea is to make it obvious, then the secret that tobacco is a highly psychoactive plant with a long and involved history of magical, spiritual, ritualistic, and purely hedonistic usage has been effectively obscured by the universal assumption that cigarettes are tobacco and that to have smoked cigarettes is to have experienced tobacco. The commercial product called "tobacco" is as close to true herbal tobacco as rubbing alcohol is to fine chateau wine. Cigarette tobacco is ultra-processed, dosage-controlled vegetable material harvested from plants which have been specifically bred to eliminate the psychoactive properties and to conform to industrial processing requirements. This "stuff" has passed through over 100 treatments and processes with dozens of additives and chemicals to assure a uniformgg, long shelf-life, highly profitable drug product with only one fucnction – to ensnare and maintain an addicted clientele, willing to trade lung disease for a cowboy/cool chic image.

http://books.google.com.au/books?id=zjK ... #PPA184,M1

p.184
There is a lot of information in the book and towards the end of the chapter is information about growing tobacco, transplanting seedlings, caring for the plant, harvesting, drying and curing tobacco. Free tobacco seeds are available in the U.S.
http://www.escapeartist.com/e_Books/Nat ... bacco.html
Tobacco is a herb and the 'powers that be' that have attempted to manipulate humanity for thousands of years (or longer) know of it's psychoactive benefits. Our DNA emits and receives photons of energy (this is how a persons auric field is created) and a person's experience of connectedness with 'All That Is' is reflected by how active their DNA is. Indigenous people use tobacco to communicate with spirits because tobacco activates more of our DNA's abilities, thus allowing for wider expansion and perception of energy.
Tobacco enhances a person's ability to pick up the thoughts and energies around them and to focus their own energy, hence, if the general population think negatively about it each time they smoke, those negative thoughts and energy will manifest physically ... hence cancers and other diseases. Commercial tobacco is grown with toxic additives and fertilisers and pesticides and it is this, combined with people's beliefs and smoking habitually rather than thankfully, that cause 'smoking related' illness'. But people always have the ability to choose a new thought or make another decision, and hence create a different reality for themselves - this is Free Will
People have been and are being lied to constantly in so many ways and the tobacco propaganda is just another way that the manipulators turn things upside down... and they attempt the same thing with marijuana... turning a beneficial herb into something to be feared.
Here are some extracts from an article about some of the crap that is in commercial tobacco such as radioactive fertilizers
Radioactive fertilizer

To grow what the tobacco industry calls "more flavorful" tobacco, US farmers use high-phosphate fertilizers. The phosphate is taken from a rock mineral, apatite, that is ground into powder, dissolved in acid and further processed. Apatite rock also contains radium, and the radioactive elements lead 210 and polonium 210. The radioactivity of common chemical fertilizer can be verified with a Geiger-Mueller counter and an open sack of everyday 13-13-13 type of fertilizer (or any other chemical fertilizer high in phosphate content).4

Conservative estimates put the level of radiation absorbed by a pack-and-a-half a day smoker at the equivalent of 300 chest X-rays every year.5 The Office of Radiation, Chemical & Biological Safety at Michigan State University reports that the radiation level for the same smoker was as high as 800 chest X-rays per year.6 Another report argues that a typical nicotine user might be getting the equivalent of almost 22,000 chest X-rays per year.7

Smoke screen

Surprisingly, the US National Cancer Institute, with an annual budget of $500 million, has no active grants for research on radiation as a cause of lung cancer.1

Tobacco smoking has been popular for centuries,11 but lung cancer rates have only increased significantly after the 1930's.12 In 1930 the lung cancer death rate for white US males was 3.8 per 100,000 people. By 1956 the rate had increased almost tenfold, to 31 per 100,000.13 Between 1938 and 1960, the level of polonium 210 in American tobacco tripled, commensurate with the increased use of chemical fertilizers.14

Publicly available internal memos of tobacco giant Philip Morris indicate that the tobacco corporation was well aware of radiation contamination in 1974, and that they had means to remove polonium from tobacco in 1980, by using ammonium phosphate as a fertilizer, instead of calcium phosphate. One memo describes switching to ammonium phosphate as a "valid but expensive point."15

Organic Solutions




Organic fertilizers such as organic vegetable compost, animal manure, wood ash and seaweed have proven to be sustainable and non-harmful to microbes, worms, farmers and eaters or smokers. Chemical phosphates may seem like a bargain compared to natural phosphorous, until you factor in the health and environmental costs.

To ensure that cannabis remains the safest way to get high, we must always use organic fertilizers and non-toxic pesticides. We should also properly cure the buds, take advantage of high-potency breeding and use smart-smoking devices like vaporizers and double-chambered glass water bongs. These will all help to address concern over potential lung damage far more effectively than either a jail cell or a 12-step program.

Tobacco smokers can also use this information to avoid radioactive brands of tobacco. American Spirit is one of a few companies that offers an organic line of cigarettes, and organic cigars are also available from a few companies. You can also grow your own tobacco, which is surprisingly easy and fun.

Until the public has an accurate understanding of how phosphate fertilizers carry radiation, and why commercial tobacco causes lung cancer but cannabis does not, there will be many needless tobacco-related deaths, and increased resistance to the full legalization of marijuana.

http://www.cannabisculture.com/news/tobacco/
And this is a link about nicotine being used to treat Alzheimer's, Parkinson's , ADHD, and about people diagnosed with a so called 'mental illness' self medicating with cigarettes.
http://www.schizophrenia.com/nicotine.benefits.htm